HamptonsFabulous.com Collection of Outdoor Kitchen islands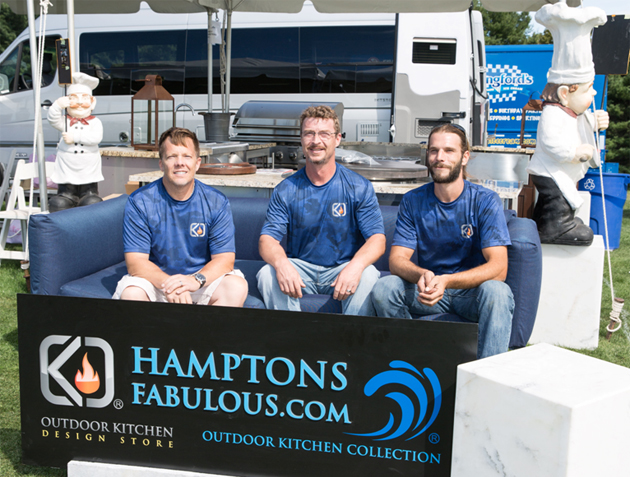 Inspired by lifestyle & home decor as a FABULOUS OUTDOOR KITCHEN DESIGNER and Endorsed by an Executive Country Club Chef of over 20 years .The HamptonsFabulous.com Outdoor Kitchen collection is an array of outdoor kitchen islands that stand alone or configured together for any outdoor kitchen intent. Food preparation and presentation just became Fabulous. The use and versatility of these islands make up for any outdoor dining event in the same area. The same area can produce multiple outdoor dining events. For instance several outdoor kitchen carts can be set up for breakfast coffee, tea and breakfast presentation. Later in the day, some of those carts and select others can be set for a luncheon buffet. At night some of the more direct heat sources can be set amongst head chefs for dinner and such. All depending on the Outdoor kitchen intent, the usage and the amount of people to serve, these island components designed together or inline help culinary chefs and waitstaff enjoy outdoor dining much more than they have in the past. The line Card of the HAMPTONSFABULOUS.COM shows an outdoor kitchen collection named after certain locations in the Hamptons with a line up of culinary heat sources, food preparation, and beverage carts. These same carts come in three series. Stainless, custom and porcelain finishes perfect for resorts, hotels, home, Luxury apartments and Hospitality.
THE BLUE WAVE SERIES- All stainless steel cabinetry, counters and appliances.
THE RIPTIDE SERIES- Cabinet colors and door styles to match any home decor and lifestyle.
THE BLISS SERIES- Modern Euro sleek contemporary cabinets & counters.
All 3 series make Outdoor dining Fabulous. All 3 series of The HAMPTONSFABULOUS.com
Outdoor Kitchen design collection are carts that can be rolled into place depending on the outdoor kitchen intent or dining event. At the end of use these carts can be rolled aside until needed again.

The BLUE WAVE SERIES is ideal for Country Clubs, Hotels and Hospitality as the staff will enjoy the functionality just as much as guests will love the look and feel of The HAMPTONSFABULOUS.com Collection.
The RIPTIDE SERIES is a perfect upscale solution for outdoor dining and entertaining. The carts are ideal for coastal environments and second homes as they can be placed securely for the off season. The array of color cabinetry, door styles and handle pulls match home decor and lifestyles perfectly. The HAMPTONS FABULOUS Outdoor Kitchen Collection is ideal for smaller intimate gatherings with friends & family or much larger catered parties.
The BLISS SERIES described as modern European porcelain cabinetry and counters perfect for the luxury apartments, roof tops, upscale hotels and luxury Homes.
Each piece of THE HAMPTONSFABULOUS.com OUTDOOR KITCHEN COLLECTION can be purchased separately. Add Outdoor Kitchen islands as your outdoor entertaining and dining venue grows.
All carts come on solid steel frames, heavy duty casters and lock into position.
The stand alone islands have custom sunbrella type covers for easy identification for storage and use. We can even customize the covers to blanket the lineup as carts are placed together for a more permanent design staying in place for the season.
Let us help you create the perfect outdoor dining event. We are specialists in Outdoor living fabulously and nationally recognized as outdoor kitchen fabulous design builders so we perfectly understand the needs of both the chef side and guest side of OUTDOOR DINING.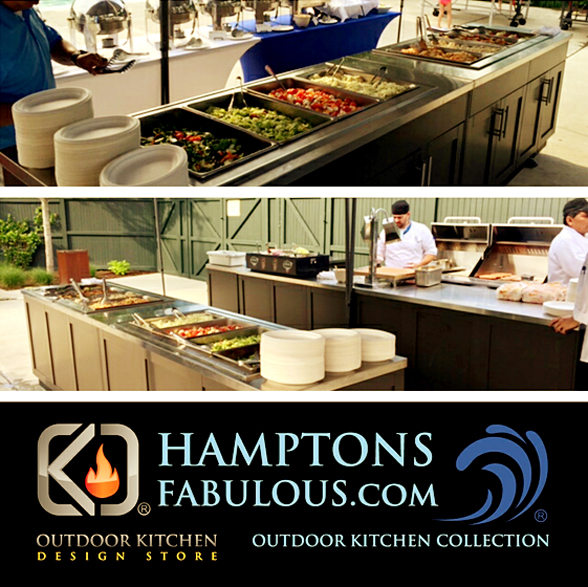 We offer white glove delivery service for your ready to go carts. (Special provisions apply if gas, propane, electrical or plumbing is needed in place prior).
Endorsed and encouraged by a well known Country Club head chef of over 20 years THE HAMPTONSFABULOUS.COM design collection of OUTDOOR KITCHEN island carts make food preparation, food presentation and outdoor dining FABULOUS no matter the Outdoor Kitchen intent.
We are here to help. Let us visit the site and use our outdoor dining fabulous vision to design and create a great outdoor space for you.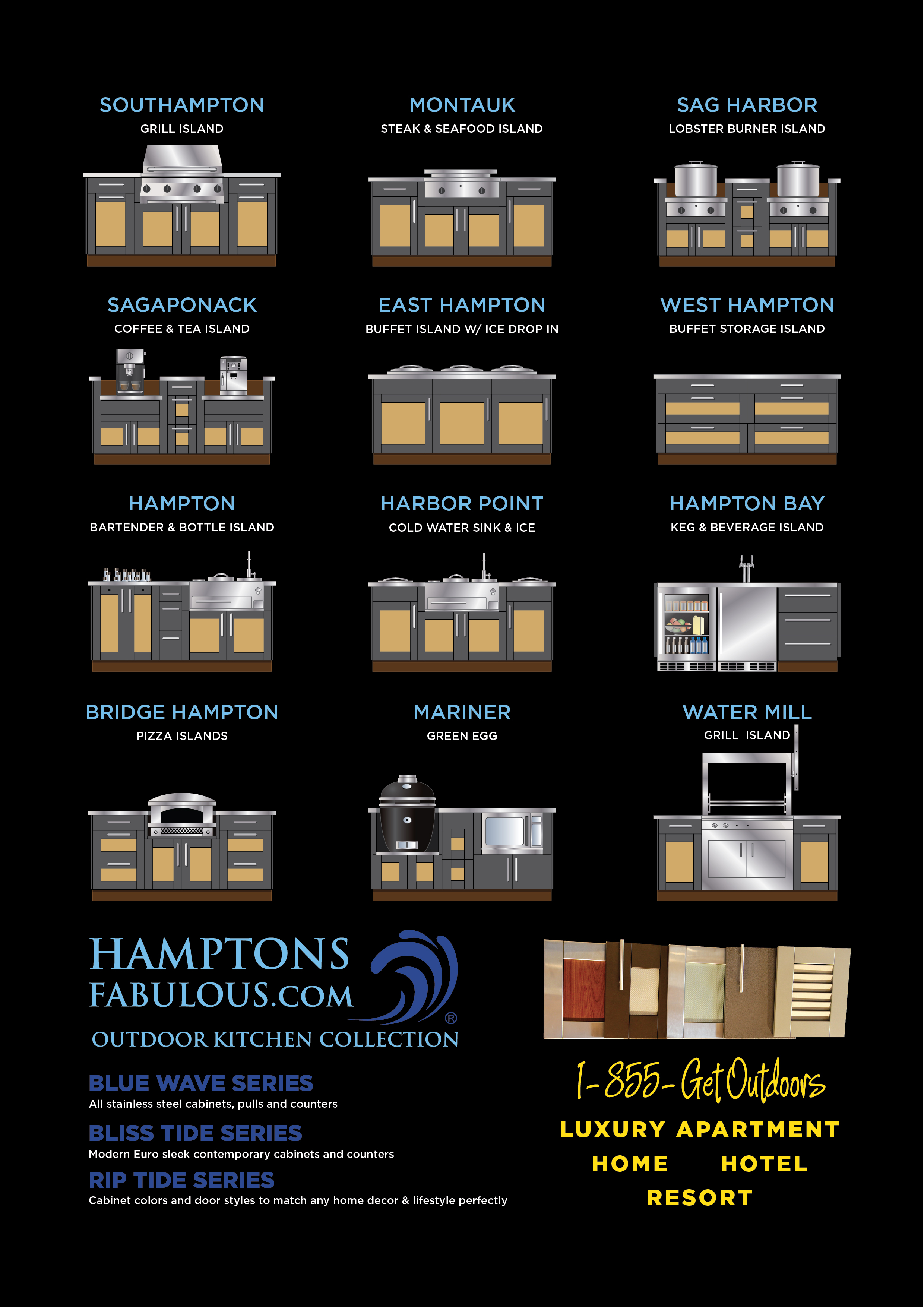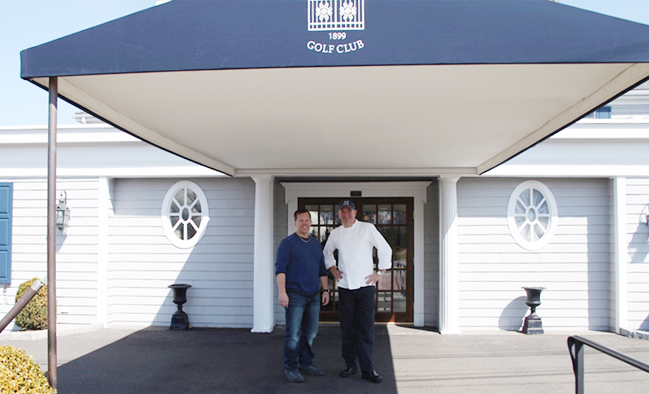 KEVIN SULLIVAN 20 yr. EXECUTIVE CHEF salutes the passion and endless resourcefulness of Michael Gotowala Outdoor Kitchen Designer and founder of THE OUTDOOR KITCHEN DESIGN STORE. The artistic outdoor visual creation and the ability to make any rolling cart configuration allows us to prepare for any event our COUNTRY CLUB may host. I would recommend these versatile and outstanding looking carts for anyone wishing to host and entertain outdoors.
The HamptonsFabulous.com outdoor kitchen design collection consists of :

OUTDOOR KITCHEN HEAT SOURCES

The SOUTHAMPTON - Grill and Cabinetry

The MONTAUK- STEAK & SEAFOOD Evo Grill & Cabinetry

The SAG HARBOR- DUAL LOBSTER BURNER ISLAND

The BRIDGE HAMPTON- PIZZA Making station

The WATERMILL- ARTISAN fired GRILL

The MARINER- Egg smoker & cabinetry

BUFFET & STORAGE ISLANDS

EAST HAMPTON- Buffet with ICE drop ins & cabinets

WESTHAMPTON- Buffet Table top with Storage cabinets

BAR & BEVERAGE ISLANDS

SAGAPONACK- KEURIG COFFEE & TEA

HAMPTON- BARTENDER & BOTTLE ISLAND

HARBOR POINT- COLD WATER SINK & ICE

HAMPTON BAY- KEG & BEVERAGE REFRIGERATOR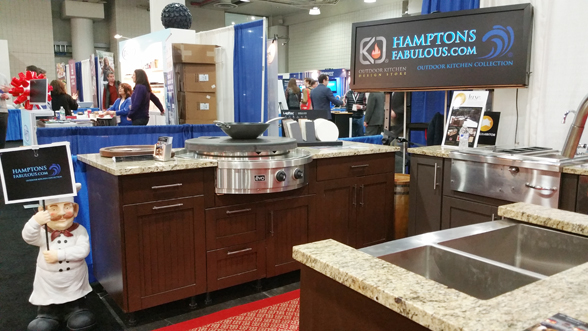 WE even have the expertise to customize the HAMPTONSFABULOUS.COM COLLECTION to meet your needs specifically. Call 1-855- GET OUTDOORS TO reach us at THE OUTDOOR KITCHEN DESIGN STORE. Founders of THE HAMPTONSFABULOUS.COM OUTDOOR KITCHEN DESIGN COLLECTION.
OUTDOOR FOOD FABULOUS
for best prices on indoor/outdoor Evo call
1-844-EVO OUTDOOR
EvoAmerica.com
Nominated as one of the America's best chefs - Vincent Barcelona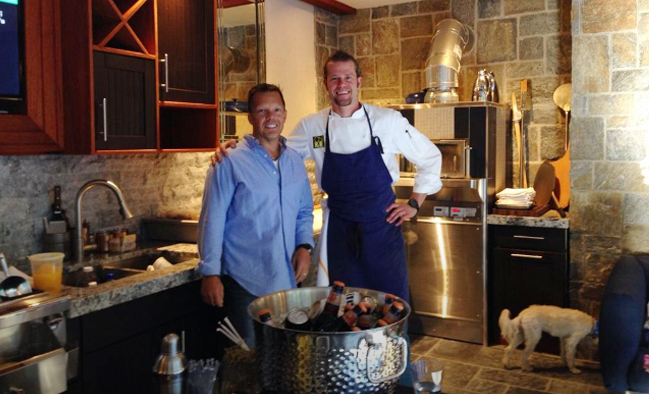 JT Executive Chef ON20 loves to cook outdoors with outdoor living fabulously designer Michael Gotowala.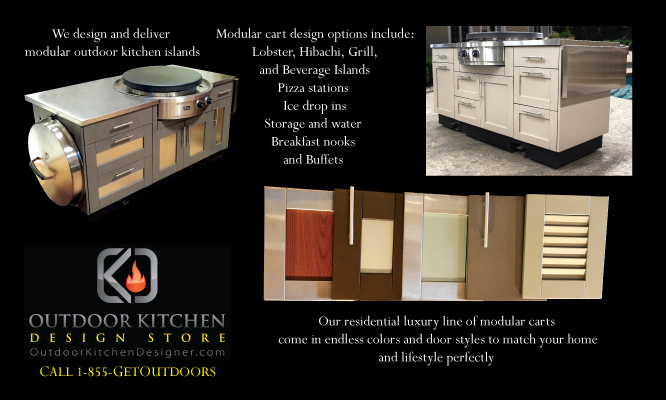 Our residential luxury line of outdoor kitchen island, Nemus colors and styles to match your home and lifestyle perfectly. Click here for more.