Outdoor Rooms have become a plethora of outdoor living luxury in todays home environment. A time and a destined place set outdoors to celebrate with friends and family. The fabulous lifestyle of family members interaction indoors can now be portrayed outdoors. The recent move to outdoor living, outdoor kitchens and entertaining lifestyles can be encapsulated in one Grande Outdoor room.
Many of our designs today carry through with an Outdoor featured Home addition. A place called an outdoor room in which an outdoor kitchen or culinary area is shared with the coziness of space. This unique area can be multi functional and pertain in particular to any outdoor dining or celebrating event.
Many Outdoor rooms become the connecting hub for friends and family to gather and meet outdoors. Usually adjacent to the backyard setting, pool or patio, the outdoor room is centrally connected and communicated to the main house hold.
View One of our project - Open-Air Expansion
The outdoor room is complete to be filled with sound, Tv, automation, bar and beverage, fire features, games and cozy furniture. The outdoor room is sometimes adorned with different heat sources other than the grill. A Pizza oven is a great example to have pizza outdoors while watching movies and such. The outdoor room also presents itself as a place to glorify the celebration of a rewarding life and mostly an area to indulge in endless hours spent outdoors with family.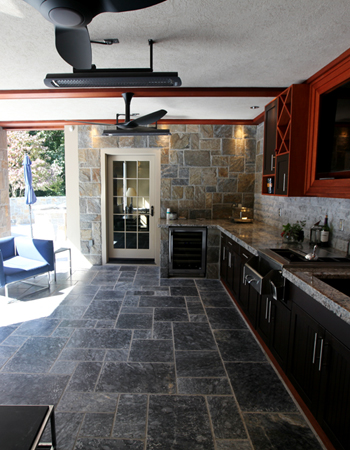 A couple trends I see as an outdoor living fabulous designer is that the head of household both husband and wife don't realize what could be accomplished outside in an outdoor room. It is a great way to anchor teens and their friends to consider as the favorite place to go. The outdoor room professionally designed, built and decorated is a fully independent lifestyle feature or can easily be opened up to interact with the rest of the household. The idea at hand is that it is versatile to engage in any outdoor entertaining and dining event.
Professionally designed outdoor rooms have capability for heated floors, radiant heat above, sound music, RGB LED color changing lighting and big screen movie type projectors. Grande anytime day or night amongst good weather or even when the weather is not quite as favorable outside.
The outdoor room also comes many times after the house is already built. The house is fully decorated and elements are in place. Where as the newly added outdoor room can be completed decorated and personified to the likings of both husband and wife. Many times an outdoor room addition comes along with a newly constructed office or master bedroom on the inside and the bump out outlines the outdoor space for the outdoor room.
In today's trendy market of luxury outdoor living the Outdoor room becomes the greatest of all for connecting with the outdoors. When the weather is favorable and the kids want to go outside, this is the hub to begin with. The outdoor room equipped with todays technology can be the outdoor office space you had wished for. Safe from the elements and connected to the outdoors, it is a great addition to your home. Many times real estate decisions are chosen upon location to areas ideal for outdoor living. The fabulous lifestyle of the Outdoor room may help accelerate that feeling of living beyond the walls of your home outdoors.
Not feeling fabulous about your indoor or outdoor living space? Do you feel they are not connected? Seek professional advice, go to visual internet design sites such as HOUZZ and become inspired on how you too can feel fabulous within your newly expanded outdoor room.
Outdoor Kitchen Fabulous designer and Founder of THE OUTDOOR KITCHEN DESIGN STORE Michael Gotowala has over 24 Outdoor Kitchens in National publications such as Signature Kitchen & Bath, Casual Living, LUXE, Hearth & Home, Outdoor Home, Greenwich Girl Magazine, Landscape Contractor DBM, and hard cover book CREATIVE HOMEOWNER BEST OUTDOOR KITCHENS.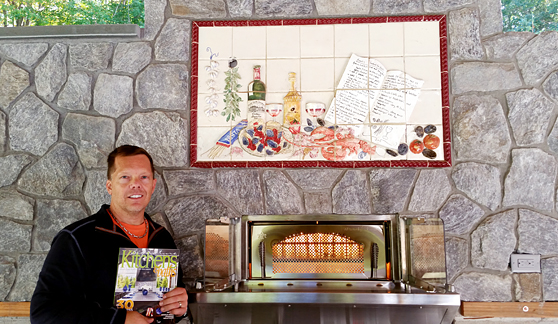 FEATURED on HOUZZ as Connecticut's BEST OUTDOOR KITCHENS.
The outdoor room professionally designed, built and decorated is a fully independent lifestyle feature or can easily be opened up to interact with the rest of the household.
OUTDOOR LIVING SHOULD "LOOK, FEEL, ENTERTAIN and TASTE FABULOUS"
The fabulous lifestyle of the Outdoor room may help accelerate that feeling of
living beyond the walls of your home outdoors.
Check out our INSTAGRAM Profile
Outdoor Kitchen Fabulous designer and Founder of THE OUTDOOR KITCHEN DESIGN STORE Michael Gotowala.
Check out our LINKEDIN Profile
---