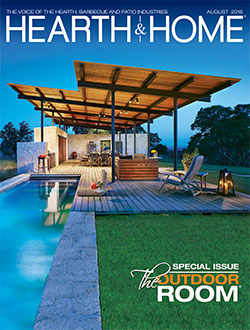 Congratulations Letter from the Editor Richard Wright
Congratulations on being selected for inclusion in our third annual Special Section on Outdoor Room Design Ideas. It's in the mail right now to 15,000 subscribers, and another 45,000 to whom it is passed along (that includes about 14,000 architects, designers and landscape architects, as well as thousands of specialty retailers and manufacturers). "Variety" was the rule of the day in selecting the 30 projects featured. We wanted to showcase not only the over-the-top, out-of-this-world projects, but also those of different sizes, budgets, types, geographic location, etc.
This Special Section in Hearth & Home is an annual event. Its purpose is to highlight, and share, great ideas being turned into reality by professionals in the design community. In its first year, the Outdoor Rooms shown were of a good quality; in 2015 they were noticeably better, and in 2016 they were better still, and more refined. It's our hope that it will be used by many of our readers to provide their customers and clients with new ideas for creating Outdoor Rooms.

---
---